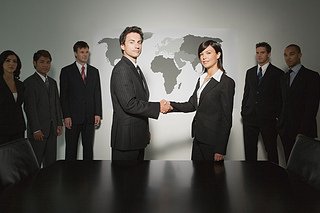 AN OFFER FOR  CONDUCTING ILS POLAND GROUP OFFICE IN POLAND
Bowadays building your own international brand from the ground is extremely difficult, very expensive and long-term. However, joining well-known international brand is much easier, so we invite you to consider alternative to the ILS POLAND.
Accession to the ILS Poland Group is based on an agreement to acquisition the license to conduct your own ILS Poland Group office – franchise contact.
WITHIN THE CONTRACT ILS POLAND GROUP OFFERS:
right to use logo and name of ILS Poland Group
access to the know-how developed by ILS Poland Group over many years of experience in the international real estate markets: organizational structure, principles of management and the manner of keeping the office, commercial offer standards, drafts of contracts for clients and associates, standards of conduct with individual and institutional clients
access to every property offers in the international database MWD (MLS), ILS which brings together thousands of offers.
free placing of all the franchisees` offers at the website: www.ilspoland.pl and in more than 30 websites across the country and in many foreign sites with ILS Poland Group agreement
free access to a computer program that supports ILS Poland Group office and MWD system (MLS)-ILS
free subpage at www.ilspoland.pl for each franchisee with an extensive, personalized offers search
overall brand advertise or franchisees property offers in monthly magazines and journals with thousands of inputs
selected advertise of franchisees commercial and residential real estate offers
help and professional advice in correct evaluation of encountered problems and minimizing the risk of making mistakes
potential financing franchisees marketing efforts in local markets
financing promotion and advertise of ILS POLAND GROUP in media and international trade fairs
help in carrying out the broad range of real estate – including legal assistance
ADVANTAGES COMING FROM PARTICIPATION IN AN ILS POLAND GROUP:
prestige and company`s brand working successful in the polish and international real estate markets
checked know-how which guarantees success
multiplying revenues of your office
huge predominance in commercial, apartment and residential or primary real estate market
the highest effectiveness registering of exclusive offers
effective customer acquisition through widespread marketing in Poland and abroad
forward presence at Europe`s largest real estate fair and investment
possibility of cooperation at the same time with dozens offices covering its range not only the entire country
modern and professional image
reasonable level of investment – we do not require large capital when you are joining ILS GROUP
partnership telephone service – helpdesk
we offer colaboration based on partnership principles for many years
ENTRANCE REQUIREMENTS:
age 26-65
higher education (average acceptable)
company registered in the real estate brokerage area
having premises in the atractive part of the city (only the ground floor of the sites)
no criminal record
PROPOSED CONDITIONS OF ACQUISITION THE ILS POLAND GROUP LICENSE (FRANCHISE):
real astate agent license or hiring a person with professional license
the contract of economic cooperation (purchase a franchise) in a notarial act form for an indefinite time
one-time franchise fee:
for agencies operating at least 2 years – 200zł + 23% VAT
for the rest entities – 800zł + 23% VAT
license rate, depending on turnover – not less than the equivalent of polish zlotys 199 EUR + 23% VAT, established individually during the meeting and depends on size of the town
on a common ILS POLAND GROUP marketing fund – 295zł + 23% VAT, also individually agreed
If you are interesed, contact us by a mobile or an e-mail to the address office@ilspoland.com