ILS POLAND GROUP in the year 2017 was awarded by the internet portal Firmy.net "Certificate Friendly Company Internet Users".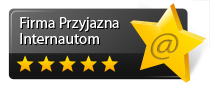 The certificate is awarded by the internet portal Firmy.net companies characterized by completeness and objectivity website offer care in the creation of unique content, as well as attention to the positive feedback from customers on the basis of a special program copyright.
We are extremely gratified that the Internet portals and customers appreciate the quality of our offerings and services, and in a very nice, yet surprisingly rewarding our work for the security of fulfilled dreams.
Thank you very much.