In May 2021, ILS POLAND GROUP was awarded the "Consumer Laurel of Trust" certificate by the Brand Research Institute.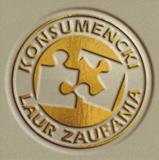 The certificate is awarded by IBM Sp. z o.o. only through the recommendations of satisfied customers and is based on their positive opinions and is a kind of expression of their appreciation and gratitude.
We are therefore very pleased that customers appreciate the highest quality of our services and in an extremely nice and surprising way reward our work to ensure the safety of dreams come true by voluntarily recommending our comprehensive real estate brokerage services in the country and abroad.
We would like to thank you and ensure that this distinction motivates us to work even more for the benefit of all users of our services and gives us a huge portion of satisfaction from the daily effort put in to ensure the safety of fulfilled dreams.